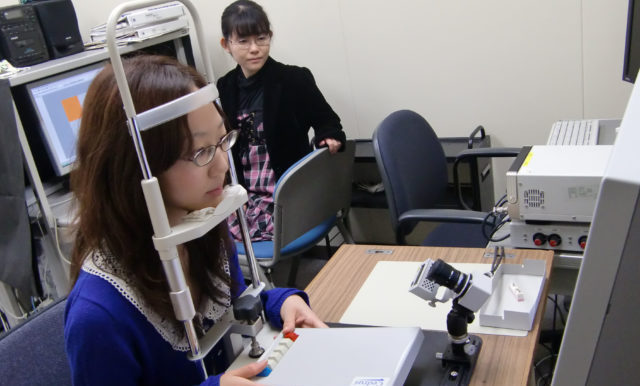 How exactly do the cognitive activities of humans and animals function? How does the brain work? In the Department of Psychology, we strive to perform education and research on these kinds of problems in cognitive psychology. Concretely speaking, in addition to areas with a long history like perception, attention, memory, learning, and development, we also work on relatively new fields such as neuroscience, music, and attraction. Specifically, we aim to gain a more profound understanding of all of these phenomena and the mechanisms behind them. We have also started to work on industrial application. All instructors in this department work together to help provide an education for the next generation of specialists and researchers.
Laboratory of Psychology
Message from Laboratory
The Japanese Psychological Association, Japan's largest organization of psychology researchers, publishes more than 1000 studies every year. Within these publications, 400 to 500 studies, or approximately 40 percent, are related to cognitive psychology, showing how popular and vigorously pursued a discipline cognitive psychology is amongst all the disciplines. We, the Department of Psychology in the Faculty of Humanities and Human Sciences, have our common background in cognitive psychology, yet each laboratory independently conducts unique research with our graduate and undergraduate students. Our department offers the most unique and diverse education and research system in Japan with our specialization in cognitive psychology and with our collaborated learning programs with the Research and Education Center for Brain Science and the Center for Human Nature, Artificial Intelligence, and Neuroscience. We welcome all the students, domestic or overseas, who wish to explore the fascinating world of cognitive psychology.
Faculty List