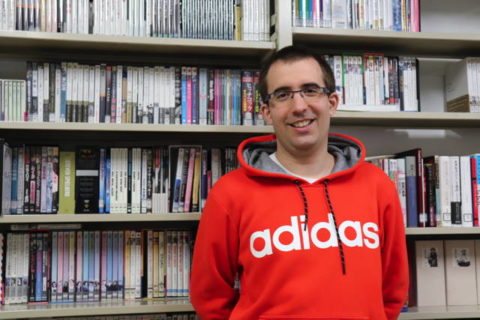 When searching for a place to research film studies, I saw four researchers at Hokkaido University studying Visual and Modern Culture. Using French Thought and Philosophy in order to research Film Studies is truly unique, and something that I believe you can only do here at Hokkaido University. The environment at the Graduate School of Humanities and Human Sciences is great. Students have the freedom to do the research they choose and this is definitely appealing.
When did you come to Japan?
Before I came to Japan, I did my undergraduate and Master's studies in Literature at the University of Debrecen in Hungary. During my time there, I spent a year (2009) in Japan at Hirosaki University as an exchange student. After coming back to Hungary and finishing my Master's degree, I taught Japanese to elementary school students for about a year at a private language school. After that, I worked at the Hungary-based factory of a Japanese company. I came back to Japan in August and September of 2014 for training. After working at that company for three years, I entered the Hokkaido University the  Graduate School of Letters* as a research student. In April of 2016, I entered the Master's program. Then, in April 2018, I managed to continue on to the Doctoral program.
What is your current research theme?
In the Master's course, I researched Japanese film directors with Professor Casio Abe. I focused specifically on Shohei Imamura. However, once I advanced on to the Doctoral course, I began to work with Professor Ying Xiong and have studied how space is treated in central European films. Particularly, I have focused on the use of space in the films of Tarr Béla and Jancsó Miklós. One of their common characteristics  is their use of very long shots. Their way of filming and spatializing a scene changes the way in which the audience sees an object. I am currently working on analyzing and considering these traits in their film-making.
Why did you choose to study at the Graduate School of Letters*?
My main reasons for working at a Japanese company were to use my linguistic skills and challenge myself. At that time, I didn't really have any real view of my future. I first started thinking about the future after I got some advice from a superior when I came back to Japan for company training. I was told, "shouldn't you try studying properly at a Japanese university?" This led me to decide to try researching the films that I had always loved watching. While I was looking at Japanese universities on the internet, I noticed the word "Visual" in the laboratory name and found four professors working on film-studies. That was when I knew that Hokkaido University was special. There's no other university in Japan quite like it.
What has been good about studying at the Graduate School of Letters*?
Studying at the Laboratory of Visual and Modern Culture has broadened my perspective. I have been able to conduct research from various points of view. There are plenty of resources here, and there are certain idiosyncrasies in the previous research that has been done up to this point (in a good way). I think one important characteristic of the Visual and Modern Culture at Hokkaido University is the use of French Thought or Philosophy as a means to support our research in Film Studies. I think this kind of research cannot be done in America or Europe. I think it can only really be done here at Hokkaido University. Everyone who comes to study Visual and Modern Culture here loves movies from the beginning. However, during their time studying here, students also start to learn how to use French Philosophy as a pillar for their research. All international students are able to get used to this unique research method even before they enter into the Master's or Doctoral program by starting as research students, the research student system is very helpful for us.
What has it been like to live in Sapporo/Japan?
I'm happy to be in Hokkaido because summer on the mainland is really quite dreadful. Hokkaido has beautiful nature. Some of it also reminds me a bit of Europe. I really like it. I also think that the scenery at Lake Toya and Mt. Usu is fantastic.
Have you had any problems since coming to Hokkaido University?
I have had almost no problems in my daily life. However, when I decided to continue from the Master's program on to the Doctoral program, I ended up changing my academic advisor at that time. That experience really made me think about many different things. It was a big change for me, so I had to muster up all of my courage.
What support did you get that was helpful for you?
I didn't know about the supporter system when I first came here, so I didn't use it. I more or less already knew what to do from my previous experience studying abroad in Japan anyway. Instead, I am currently working as a supporter to help out international students from various countries.
The tutor system is incredibly helpful. When I'm trying to put down what I want to say into writing, my Japanese tends to become rather long-winded. For this reason, having a tutor to help give me suggestions for more natural Japanese expressions was very helpful.
Do you have a message for students who want to come to the Graduate School of Humanities and Human Sciences, Hokkaido University?
The Hokkaido University Faculty of Humanities and Human Sciences has a great environment. There is a great deal of freedom here. The fact that you are able to research what you want is definitely appealing. I think it is a good place for students who have their own research theme that they want to pursue. I hope that all of you who are reading this will challenge yourselves with just such a research theme.
* In April 2019, the Graduate School of Letters has been reorganized as the Graduate School of Humanities and Human Sciences.
(interviewed in April, 2019)