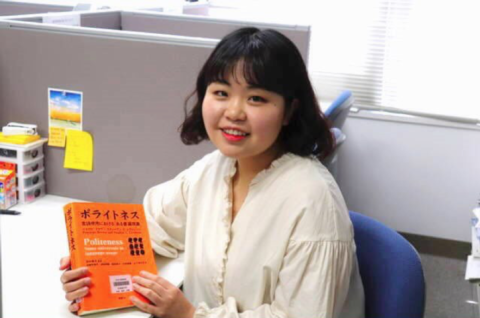 After hearing a presentation from graduate students studying under Professor Kato at a conference in Korea about Japanese language, I decided that I wanted to come and study pragmatics. One point that was helpful for me is that, in my research room, we do not only study pragmatics. Rather, we research syntactic pragmatics, which combines both pragmatics and syntax. I currently have many chances for discussion with both Japanese students and international students from various countries, so I have found my research environment to be quite good.
When did you come to Japan?
My father had studied abroad at Tohoku University, so I moved to Japan at a very early age and lived here for 7 years as a child. I spoke Japanese at preschool and Korean at home, so I was leading a bilingual lifestyle back then. As such, studying Japanese felt very natural for me, and I decided to study Japanese language when I entered my university in Korea. Back when I was a 3rd year student at Chungnam National University in 2013, I came to Hokkaido University as a foreign exchange student with the Japanese Language and Culture Studies Program. After finishing my Master's Degree at Chungnam National University, I then returned to the Hokkaido University as a research student in the Graduate School of  Letters*. Finally, in 2018, I succeeded in entering the Doctoral program.
What is your current research theme?
Under the guidance of Professor Shigehiro Kato, I am currently studying "expressions of consideration". While there are "regular" examples of these expressions – such as when one says 'chotto' in Japanese before getting into what they actually need to say – I am interested in the less developed research field of the use of considerate expressions in "irregular" cases. For instance, we can think of a case in which someone who usually refers to you by your name when speaking Japanese suddenly starts to use the second person pronoun. What kind of intention lies in the background when someone changes the way that they refer to another person they are cautioning or giving advice to? I am currently contemplating the intent behind using the second person as a means to distance oneself from the other person.
Why did you choose to study at the Graduate School of Letters*?
When I was deciding where to go to study abroad, I made a list of all the candidate programs where I could go to study Japanese. Out of all the potential programs, I decided to go with Hokkaido University because Hokkaido's dialect is not very strong and, back in 2013, Hokkaido was still fairly unknown in Korea. The impression I got from Hokkaido University during this time was superb. This made it quite easy for me to choose where to go for the next step in my graduate studies. When I was still studying for my Master's Degree, some of the members of Professor Kato's research room gave a presentation on pragmatics at an academic conference for Japanese language being held at Chungnam National University. After hearing their presentation, I knew that I wanted to study pragmatics in Professor Kato's research room.
What has been good about studying at the Graduate School of Letters*?
At first, I thought studying pragmatics alone would be enough for my research. However, Professor Kato uses a research method known as "syntactic pragmatics", which combines syntax and pragmatics. Both pragmatics, which emphasizes the importance of context, and syntax, which emphasizes grammar, tend to provide biased interpretations of expressions. Syntactic pragmatics is beneficial for my research, because it allows me to look from a perspective that has mixed elements from both syntax and pragmatics. When we interpret the meaning of certain expressions, we must consider the situation and human-relations involved. However, it is also quintessential to remember the grammatical elements and meaning of these expressions themselves. Hence, I think it was very helpful for me to have learned about a method that lets me use both syntax and pragmatics.
In my research room, there are students from many different countries, such as Japan, China, and Korea. If there is an expression in Japanese that has been on my mind, I am able to ask the Japanese students about it. We also have a seminar for all of the students in the research room. In this seminar, we are given an English text to read and then discuss it in Japanese. In this way, we are able to practice both reading in English and expressing ourselves in Japanese.
What has it been like to live in Sapporo/Japan?
Sapporo is actually the sister city of my hometown of Daejeon, and they both share an easygoing atmosphere. In Sapporo, I know of many nearby places where I can go shopping or relax. I can take care of just about anything I need to do without travelling far away, so it is convenient. Still, Daejeon is a warm place, so seeing the amount of snow we get in Sapporo was a surprise.
Have you had any problems since coming to Hokkaido University?
The process of finding an apartment was quite different from Korea, so I got rather confused. In Japan, you generally search for a new apartment in February or March, but I didn't know that. So when I started looking for a new apartment at the end of March, I couldn't find anything nice near the university. Also, in Korea, it is standard for apartments to come equipped with furniture. I was surprised to find that you have to buy all the furniture and electronics yourself in Japan.
What support did you get that was helpful for you?
I was thankful for the explanations I got from my supporter concerning all the facilities in the Graduate School of Letters*, library, and research room. Since autumn of last year, I have also been a supporter for new foreign students and tried my best to help explain things to them.
Also, I was thankful for the help I got from my tutor. My tutor helped check my Japanese when I wrote my research plan, and would also discuss the content of articles I read. This helped me study a great deal.
As for support that would have been nice to have, I think it might be helpful to provide students with information about how to rent an apartment to students before they come to Japan.
Do you have a message for students who want to come to the Graduate School of Humanities and Human Sciences, Hokkaido University?
If you come here, you will be able to study many new fields in a new environment here in Japan. As long as you are willing to challenge yourself to learn about new fields without hesitating, I believe you will have a positive experience. In particular, I would like to suggest that those of you who are studying Japanese language to go to conferences being held in your own country to find out what kind of research fields are currently receiving attention and plan out your preferred study destination accordingly.
* In April 2019, the Graduate School of Letters has been reorganized as the Graduate School of Humanities and Human Sciences.
(interviewed in April, 2019)