Philosophy and the "real" world: How Philosophers can work as consultants and advisors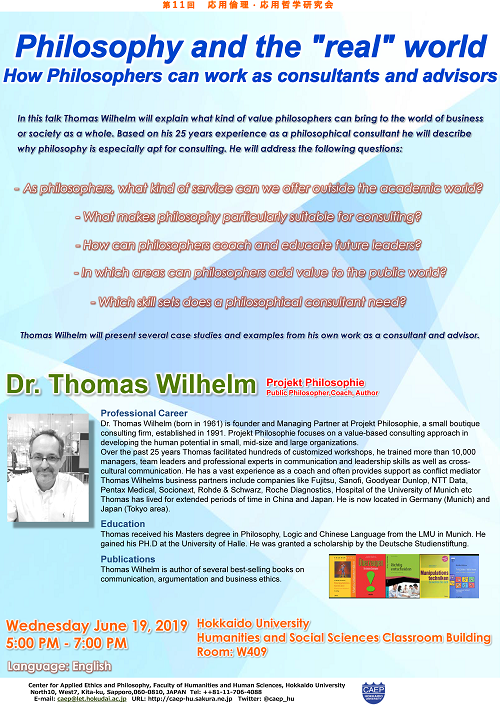 Poster
Lecturer
Dr. Thomas Wilhelm(Projekt Philosophie Public Philosopher, Coach, Author)
Date: Wednesday June 19, 2019  5:00 PM – 19:00 PM
Venue: Humanities and Social Sciences Classroom Building W409
In this talk Thomas Wilhelm will explain what kind of value philosophers can bring to the world of business or society as a whole. Based on his 25 years experience as a philosophical consultant he will describe why philosophy is especially apt for consulting. He will address the following questions:
As philosophers, what kind of service can we offer outside the academic world?
What makes philosophy particularly suitable for consulting?
How can philosophers coach and educate future leaders?
In which areas can philosophers add value to the public world?
Which skill sets does a philosophical consultant need?
Thomas Wilhelm will present several case studies and examples from his own work as a consultant and advisor.
Contact
Center for Applied Ethics and Philosophy
Faculty of Humanities and Human Sciences, Hokkaido University
Email: caep[at]let.hokudai.ac.jp
Tel: +81-11-706-4088