Profile
YOSHIKAI Masato
Professor

Research Subject

History of the Warring States Period and Qin and Han dynastiesHistorical relations between China and VietnamHistory of Chinese Historiography and Ethnic Nationalism
Research Fields

China's Southern Borderland, Modern China

Faculty - Division / Research Group / Laboratory

Division of Humanities / Research Group of History / Laboratory of Oriental History

Graduate School - Division / Department / Laboratory

Division of Humanities / Department of History / Laboratory of Oriental History

School - Course / Laboratory

Division of Humanities and Human Sciences / Course of History and Anthropology / Laboratory of Oriental History

Contact

Office/Lab: 303
Email: yoshikai(at)let.hokudai.ac.jp
Replace "(at)" with "@" when sending email.

Foreign exchange students who want to be research students (including Japanese residents) should apply for the designated period in accordance with the

"Research Student Application Guidelines"

. Even if you send an email directly to the staff, there is no reply.

Related Links
Lab.letters

Turning our eyes to "the resistance":
The key to understanding issues regarding China lies in the past.
I'm currently involved in research on three categories.
The history of the Warring States Period and Qin and Han dynasties, based on my interest in the question of how the movement toward national unity took place on the mainland China
Historical relations between China and Vietnam, due to my interest in the question of what separates China from countries elsewhere
The history of Chinese historiography and ethnic nationalism, based on my interest in the question of how intellectuals have regarded the history of ancient China and Chinese civilization
These interests of mine derive from my experiences in 1989, when I was a university student. In March, I witnessed the revolt by Tibetans in Lhasa. After returning to Japan in June, I was deeply shocked to watch daily news reports on how a democracy movement in Beijing led by intellectuals and students was being suppressed by the government.
Through these experiences, several questions encouraged me to carry out research on Chinese history as follows:
What kinds of social inconsistencies arise in the process of Chinese state formation?
How are political system and power created and strengthened to resolve those inconsistencies?
How were different regions unified or eliminated to form the framework of the present China?
How have intellectuals in China understood the past and built a bridge between past and present?
You might think I should research present-day China rather than its history to meet my interests. My answer is as follows: it's from the history specific to China that present-day China derives, and the present also exists in a stream of historical change. Acting as a bridge between past and present is historical study. So that, we really welcome not only the students who absolutely love ancient heroes and dynasties, but also the students who want to study Chinese history just because of an interest in present-day China.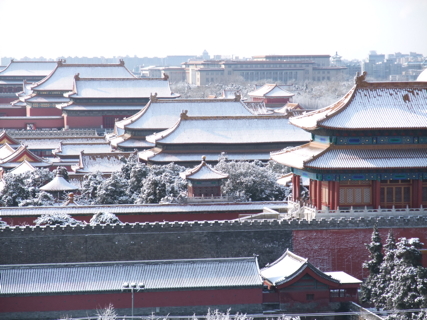 Perspectives from Hokkaido serve as great incentives for understanding and interpreting China and Chinese history.
Hokkaido, which is far from the center of Japan, is a unique place where researchers are allowed to freely develop their thinking and gain a better insight. As a specialist who researches the history of southern China, where lots of Non-Han Chinese ethnic groups live, it was a windfall harvest to be able to gain a new perspective on the ethnohistory of Hokkaido as a basis for comparative study. I'm quite sure that students who come to our university to study Chinese history also should gain a huge harvest in Hokkaido.