Profile
TAKASE Katsunori
Professor

Research Subject

Archaeology of the Yayoi and the Epi-Jomon Periods, Comparative study of the early agrarian society in East Asia, Long-term history of hide use, Area study of the Kamchatka Peninsula
Research Fields

Prehistoric archaeology

Faculty - Division / Research Group / Laboratory

Division of Humanities / Research Group of History / Laboratory of Archaeology

Graduate School - Division / Department / Laboratory

Division of Humanities / Department of History / Laboratory of Archaeology

School - Course / Laboratory

Division of Humanities and Human Sciences / Course of History and Anthropology / Laboratory of Archaeology

Contact

Office/Lab: 503
Email: takase(at)let.hokudai.ac.jp
Replace "(at)" with "@" when sending email.

Foreign exchange students who want to be research students (including Japanese residents) should apply for the designated period in accordance with the

"Research Student Application Guidelines"

. Even if you send an email directly to the staff, there is no reply.

Related Links
Lab.letters

Archaeology: the science dialoging with material culture through ever-improving scientific techniques
When prehistoric pottery acquires rice and millet husks on their surface while they're being produced, their impressions are left on the surface even though husks disappear during the firing. If we can identify the date of clay vessels, we'll be able to clarify the subsistence of the period. Therefore, potsherds are attracting attention as extremely significant evidence to study the past plant use in Japanese archaeology. The material for creating a positive model of a seed impression on the pottery surface has changed from the oil clay or plaster to silicon resin, and The presence of a husk impression on the pottery surface is currently observed using a scanning electron microscope instead of an optical microscope, thanks to ever-improving scientific technology. Unlike historical documents, which are based on the writer's viewpoint, material culture is unbiased evidence showing people's actual life of the past. They're unprejudiced primary sources for historical research. What can be collected from these sources depends on the researcher's approach. While thinking of their own approaches, students are expected to reveal human history that has not been documented in the previous studies and textbooks.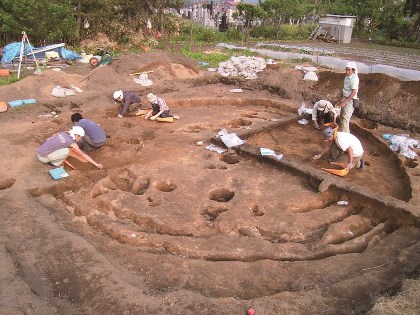 Don't hesitate to use new methods:
Technology transfer for future studies
Archaeologists should never take the research stance that "This is enough." Every day they're required to develop research methods, to provide feedback onsite in the field and to seek better methods in a repeated fashion. For this reason, it's extremely important for graduate students to tackle various technologies. In anticipation of your participation in research on archaeology, I'm ready to unsparingly and promptly transfer the knowledge and technologies I've acquired. Once you experience delicate work, you should be able to apply that experience to your research without hesitation whenever you wish to. You don't have to feel the hesitation that comes from a lack of experience. The education system in relatively small classes at Hokkaido University is ideal for students majoring in archaeology. It helps to foster close relationships between teaching staff and students, enabling the detailed instruction of individual students.
Message
Archaeology is defined as historical study based on materials culture, not on historical document. Studying archaeological record, such as artifacts, archaeological features, and sites, can be regarded as a dialogue with material culture. If you adequately ask them, you can get insightful answers on human of the past. Thus, methodologies of archaeology are indispensable tools for a dialogue with archaeological materials; you need to learn them only in universities. I mainly address prehistoric archaeology of Northern Japan and Russian Far East. In these regions, archaeology plays a significant role because it enables us to restore history without written records. Also, study in these regions is so exciting because we can occasionally discovery previously unknown historical facts. Through learning archaeological methodologies, you will be able to acquire the technique and skills needed to make conversations with archaeological materials of various periods unearthed from all around the world. Join Laboratory of Archaeology in Hokkaido University and change your future!