Profile

Research Subject

The grammatical typology of Slavic languages,
Language contact and grammatical change (especially Balkan linguistic area),
Language and identity (especially Slavic micro-literary languages)
Research Fields

General linguistics, Slavic linguistics

Graduate School - Division / Department / Laboratory

Division of Humanities / Department of Slavic-Eurasian Studies / Laboratory of Slavic-Eurasian Studies

Contact

Office/Lab: 519
TEL: +81-11-706-3158
Email: mnomachi(at)slav.hokudai.ac.jp
Replace "(at)" with "@" when sending email.

Foreign exchange students who want to be research students (including Japanese residents) should apply for the designated period in accordance with the

"Research Student Application Guidelines"

. Even if you send an email directly to the staff, there is no reply.

Related Links
Lab.letters

Diverse changes in linguistic structures that result from (socio-)linguistic interaction.
In Southeastern Europe, which has been described as a "cultural mosaic," various languages have encountered changes in accordance with social changes, leading to the diverse transformation of linguistic structures. My research has focused on elucidating the historical and social background of, and the processes behind, the transitions which have brought about the coexistence of different types of linguistic structures.
The language I currently focus on the most is the Kashubian language, one of the Slavic minority languages mainly spoken in Poland, which has long been treated as a dialect of Polish. This language has various non-Slavic features in its structure which have come into being as a result of long and intense contact with German and other languages. In recent years, Kashubian has received a status of a regional language and today street signs written in both Polish and Kashubian can be seen in the Kashubian-speaking areas. I have been doing field work in the region collecting precious linguistic data from native speakers.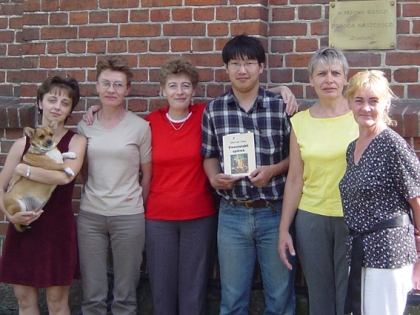 Promoting Slavic research based on a track record of success at international conferences and on excellent human resources.
The internationalization of Slavic studies is progressing every day. In 2011, as an organizer, I hosted Japan's first large-scale international conference on Slavic languages. Eminent specialists from 15 different countries in Slavic linguistics, who are also members of the International Committee of Slavists, attended the conference. I have also organized the following international conferences: one was devoted to the analysis of Slavic languages from the viewpoints of regions and patterns (2013: poster PDF); one was on issues of Slavic micro-literary languages and standard language creation, co-organized with the Ghent Center for Slavic and East European Studies at the University of Ghent in Belgium (2015: poster PDF); and one discussed Slavic standard language ideology from interdisciplinary perspectives (2016: poster PDF). Our successful track record of holding international conferences attended by world-leading researchers, as well as excellent faculty and a stimulating environment, provide remarkable advantages for pursuing Slavic linguistics at Hokkaido University.
In our program we foster an interdisciplinary approach, and our students have many opportunities to interact routinely with researchers in other fields, such as history, literature, economics and politics, and can always feel intellectually inspired. I would like to invite those who wish to conduct research on Slavic linguistics to approach the material from multiple perspectives, to look at the broad picture, and observe these languages from a bird's eye view rather than concentrating on a specific area or a single language.