Profile
IWASHITA Akihiro
Professor
Research Subject

The purpose of my study is to restructure the theories of International Politics by developing the case study of the territorial issues in Eurasia.
Research Fields

Border Studies in Eurasia, including Russia, China and Central Asia

Graduate School - Division / Department / Laboratory

Division of Humanities / Department of Slavic-Eurasian Studies / Laboratory of Slavic-Eurasian Studies

Contact

TEL: +81-11-706-2388
FAX: +81-11-706-4952
Email: iwasi(at)slav.hokudai.ac.jp
Replace "(at)" with "@" when sending email.

Foreign exchange students who want to be research students (including Japanese residents) should apply for the designated period in accordance with the

"Research Student Application Guidelines"

. Even if you send an email directly to the staff, there is no reply.

Related Links
Lab.letters

Towards resolving territorial issues,
take the lead in border studies.
National borders, which we human beings draw on the earth, involve various issues, ranging from those related to international relations, including politics, economy and diplomacy, to those relating to the daily lives of people living in border areas. Where should national borders be drawn? How should these borders be managed daily? In Russian territory and elsewhere in Asia, which have these problems, systematic border study networks that researchers can share with each other have not been established. In response, Hokkaido University has started to play a central role in creating a networking system for border studies. Not only do we explore case studies of territorial issues around the world, but we also actively host seminars and border forums, inviting mayors from various regions with territorial issues, such as Nemuro City, Tsushima City, Yonaguni Town and Ogasawara Village.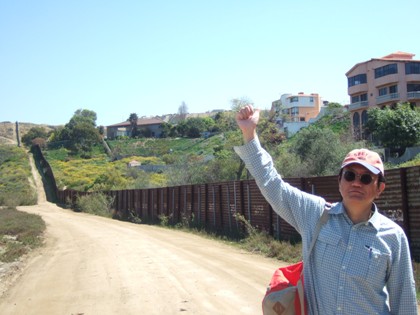 Border researchers who assemble in this northernmost island: Maintain your own stance on everything.
In line with today's globalization, border studies have entered an age of decentralization. Interactions among border researchers assembled in Hokkaido have made it possible for us to obtain the latest information—information that's not covered by the media. For instance, the image of a neighboring country that people in the central parts of a country hold in mind differs significantly from the attention that people in a border area pay to that neighboring country, and more often than not, the latter is even calmer and more pragmatic. Those who wish to engage in border studies should be careful not to be swayed by information that may seem plausible on its face. Based on original information, you should develop the mindset of thinking for yourself. I'm pleased to offer my cordial support to those who are willing to assume responsibility for the resolute decisions they've made.
Message
I look forward to having those interested in Russian diplomacy and international relationships in Eurasia visit our laboratory.