Profile
TAKEDA Masaya
Specially Appointed Professor
Research Subject

(1) The world of the Ming dynasty novel Xiyang ji (Western Record)
(2) Chinese modern science fiction novels
(3) Chinese palm-size picture books, New Year pictures and posters
Research Fields

Literature of various countries/theories of literature criticism

Faculty - Division / Research Group / Laboratory

Division of Humanities / Research Group of Cultural Representations / Laboratory of Sinology

Graduate School - Division / Department / Laboratory

Division of Humanities / Department of Cultural Representations / Laboratory of Sinology

School - Course / Laboratory

Division of Humanities and Human Sciences / Course of Linguistics and Literature / Laboratory of Sinology

Contact

Office/Lab: 424
TEL: +81-11-706-4081
FAX: +81-11-706-4081
Email: zhu8jie(at)plum.ocn.ne.jp
Replace "(at)" with "@" when sending email.

Foreign exchange students who want to be research students (including Japanese residents) should apply for the designated period in accordance with the

"Research Student Application Guidelines"

. Even if you send an email directly to the staff, there is no reply.

Related Links
Lab.letters

The figure I revere is Cho Hakkai (Zhu Bajie).
Providing a gateway to know things that are alien to you
My research on Chinese literature started with an exploration of the headwaters of the Yellow River. In due course, it expanded into a wide range of genres, including animated cartoons, posters, the science of illusions, breast culture, and the history of unusual clothing, or disguising oneself by cross-dressing. Locals in China would often be surprised at these genres and would say, "Are these really useful research themes?" For lectures geared to first-year undergraduates, I've chosen "Monster Theory," hoping that these lectures serve as a gateway to in-depth understanding of "that which is different from you." I'm very pleased to help you enhance your interests in "what is alien to you" through stories in which various characters play unique roles, such as Cho Hakkai (Zhu Bajie) in Saiyuki (Journey to the West), the figure to which I pay the greatest homage; a plant that produces sheep; and the actress Aoi Miyazaki, who is famous but monstrous (in one sense).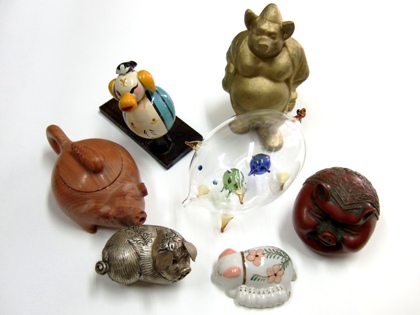 Students in upper classes have to answer every question from those in lower classes, thereby cultivating the skills to immediately grasp vital points.
Students in upper classes must be ready to answer every question from those in lower classes. This is what I always tell my students when providing them with guidance. These junior students exercise their privilege of asking any questions, while their seniors play the role of panelists. Frequent practice in answering questions even on a subsequent day after making secret inquiries serves to train one's skill in immediately grasping a vital point when digging out documents. This is bound to be conducive to your research.
Long ago, during academic and career counseling for students, my mother told my homeroom teacher in high school that my son had a natural inclination toward becoming a mountain hermit or someone like that. The teacher answered: "Then he should go on to Hokkaido University." Come to think of it, I'm convinced that the advice he gave me was really concise and to the point. Hokkaido University has an atmosphere of freedom, allowing students and researchers to research any topic, such as my research on Cho Hakkai (Zhu Bajie). This is the ideal place for my career.
Message
Are you interested in research on Chinese illustrated books, dramatic comics, illustrations and rental comics (Lianhuanhua picture storybook) ? I have a large collection of materials like these. Let's go on a reading spree!