Profile
SUZUKI Yukito
Associate Professor

Research Subject

Focusing on classical Japanese paintings, I am considering the characteristics of Japanese art and culture from the perspective of emphasizing the form of appreciation.
Research Fields

Aesthetics/history of art

Faculty - Division / Research Group / Laboratory

Division of Humanities / Research Group of Cultural Diversity Studies / Laboratory of Museum Studies

Graduate School - Division / Department / Laboratory

Division of Humanities / Department of Cultural Diversity Studies / Laboratory of Museum Studies

School - Course / Laboratory

Division of Humanities and Human Sciences / Course of Philosophy and Cultural Studies / Laboratory of Museum Studies

Contact

Office/Lab: 604
Email: yukkun(at)let.hokudai.ac.jp
Replace "(at)" with "@" when sending email.

Foreign exchange students who want to be research students (including Japanese residents) should apply for the designated period in accordance with the

"Research Student Application Guidelines"

. Even if you send an email directly to the staff, there is no reply.

Related Links
Lab.letters

Studies on the arts start with individual experiences: Studies ranging from Nizaemon to An Illustrated History of Kitano Shrine
I think studies on the arts should spring from individual experience. What really matters is to identify a universal theme from specific experiences everyone has had, while cherishing one's initial excitement.
My current research on how people regarded Sugawara no Michizane, an aristocrat, scholar and politician of the Heian period (794 to 1185) who was also known as Kanko, was inspired by the impression I received in my school days from a performance of the kabuki play Sugawara Denju Tenarai Kagami: Domyoji (Sugawara's Secrets of Calligraphy at Domyoji Temple), in which the now-deceased actor Nizaemon Kataoka played Sugawara. Sugawara no Michizane was posthumously deified as a violent god who causes disruption in the capital, a god of lightning and a god of learning. I'm trying to find my own take on this diverse, complex figure by analyzing Tenjin Engi Emaki (An Illustrated History of Kitano Shrine), manuscripts of which were left in various parts of Japan.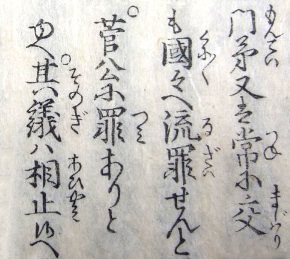 I'm pleased to support those who make strenuous efforts to turn the vague idea of one day working as a curator into a realistic goal.
One gains artistic expertise and experience with age. Even if one is currently limited with respect to these, one's future actions can bring a rich store of experience.
Among the alumni of Hokkaido University is a role model whose motivation to frequently visit the Kansai district, the home of classical Japanese culture, won him the respect of a curator at an art museum there, and that alumnus realized his ambition of becoming a curator himself.
Some may be interested in jobs related to art; others might wish to involve themselves in jobs related to exhibitions and events. In realizing your dreams, it's also useful to consider indirect job opportunities, such as those at newspaper companies or broadcasting stations. I'm pleased to offer my support from every direction, so that you can fully demonstrate your aptitude.