Profile

Research Subject

I study human culture on the Japanese Islands by archeological research, with focusing on structure in existence and function in situation as the key concept.
Research Fields

Archaeology, Study of material culture

Faculty - Division / Research Group / Laboratory

Division of Humanities / Research Group of History / Laboratory of Archaeology

Graduate School - Division / Department / Laboratory

Division of Humanities / Department of History / Laboratory of Archaeology

School - Course / Laboratory

Division of Humanities and Human Sciences / Course of History and Anthropology / Laboratory of Archaeology

Contact

FAX: +81-11-706-4000

Foreign exchange students who want to be research students (including Japanese residents) should apply for the designated period in accordance with the

"Research Student Application Guidelines"

. Even if you send an email directly to the staff, there is no reply.

Related Links
Lab.letters

Sedentary hunter-gatherers:
The hot issue of the sustainable Jomon culture
With interest in Jomon research increasing around the world, Jomon Archaeological Sites in Hokkaido and Northern Tohoku have been designated for inscription on the World Heritage List. Why is the Jomon culture becoming such a hot issue? In human history, it has conventionally been understood that the earliest lifestyle of nomadic hunting and gathering developed into the lifestyle of sedentary farming, which promoted food production. However, the Jomon culture, which lasted for some ten thousand years, is a unique case (or shows a contradictory case), because Jomon peoples continued hunting and gathering despite having a sedentary lifestyle. The Jomon culture, which falls outside the previous framework and includes sustainable affluence, is expected to provide the modern world with many suggestions.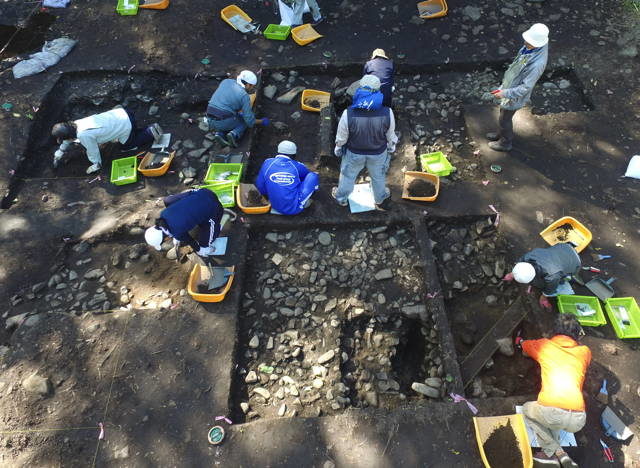 The establishment of an eco-museum
that cultivates a sense of human historical time
This course provides students with opportunities for practical training at archaeological excavations. Focusing on the northern coastal area of Funka Bay, we've been conducting fieldwork during the summer holidays at the Usu-6 site (Date City) since 2000, at the Koboro Cave Site (Toyoura Town) since 2006 and at the Rebunge Site (Toyoura Town) since 2012. In 2009, the Jomon Eco-Museum on the Northern Coast of Funka Bay was established while registering these locations as satellite archaeological sites. It is also known that extensive cultural remains from the post-Jomon and Satsumon periods lie under the campus of Hokkaido University. We're striving in concert with the Hokkaido University Archaeological Research Center to establish a campus eco-museum by positioning these underground remains as an "archaeological trail." The archaeological practical training, in which you can experience a sense of human historical time whose years are counted in units of 1,000 or 10,000, provides opportunities for you to develop a sense of time that one can't experience in daily life. I cordially wish to educate students who can contribute to society by applying this sense of time.
Message
Do you think of archaeology as a discipline dealing with ancient history in times before human beings started using letters or soon after they began using cuneiform characters or hieroglyphs? These days, some Japanese-language dictionaries define archaeology as "a discipline that explores human history." So, which historical periods does human history refer to?
Studies have revealed that it was approximately seven million years ago that the ancestors of humans and those of chimpanzees branched off in their evolutionary processes. The studies of human history cover this stage to the modern age (present days). Those of us living in the present are on the front lines of human history. There are many events that have not been left behind for posterity in written form even after humans started using letters. Perhaps events not left in writing outnumber those with written accounts. These events were not recorded in written form because they did not appear to be significant. However, the key (clue) to understanding the existence of human beings and the facts of history may be hidden there. No matter how important those events might be, they were most unlikely to be recorded in letters when they were taken for granted. Furthermore, people—especially those with power—are reluctant to document matters deemed negative to them. Archaeology may play a key role in filling historical blanks that have no written documentation with physical evidence such as remains and relics handled by archaeology, providing a breakthrough or a determining factor to resolve issues.
We are currently facing many serious issues such as those related to the environment, energy, nuclear waste disposal and the relationship between animals and humans as well as disagreements among countries over the recognition of World Heritage sites. If we put these hurdles into the ultra-long-term time frame of archaeology and look at them from the perspective of human history, I wonder what clues we will find looming in front of us and what solutions we can hammer out. This is the challenge being tackled by those engaged in archaeology and exploring human history.
Students majoring in areas of archeology study Jomon, Yayoi, Satsumon, and other cultures as much as they like. They then go on to pursue research in each specialized field and deepen their thoughts on "the connection between the present and the past" as a common mission imposed on modern archeology.