Profile

Research Subject

Ecological and regional studies about impacts of invasive alien species and countermeasures by humans. Human-animal relationships in the world.
Research Fields

Conservation Ecology, Wildlife Management, Socioecology

Faculty - Division / Research Group / Laboratory

Division of Human Sciences / Research Group of Regional Science / Laboratory of Regional Science

Graduate School - Division / Department / Laboratory

Division of Human Sciences / Department of Regional Science / Laboratory of Regional Science

School - Course / Laboratory

Division of Humanities and Human Sciences / Course of Human Sciences / Laboratory of Regional Science

Contact

Office/Lab: E101
TEL: +81-11-706-4163
FAX: +81-11-706-4163
Email: tikeda(at)let.hokudai.ac.jp
Replace "(at)" with "@" when sending email.

Foreign exchange students who want to be research students (including Japanese residents) should apply for the designated period in accordance with the

"Research Student Application Guidelines"

. Even if you send an email directly to the staff, there is no reply.

Related Links
Lab.letters

A guide to conservation ecology in Hokkaido
leads to the success of an international symposium.
Conservation ecology has aspects of the natural sciences as well as those of the humanities and social sciences. I perform surveys and research on the problems caused by invasive alien species that disturb native ecosystems, like raccoons do in Hokkaido, and I strive to come up with measures against them. Human emotions have a great impact on this problem. If we're persuaded by the emotional argument that taking preventive measures against them or euthanasia is too cruel, we'll end up overlooking serious agricultural damage and environmental impacts. Therefore, it's important to promote community-wide projects by simply presenting the current conditions and predictive data in a way that everyone can understand.
In 2008, an international symposium was held with researchers from ten countries, including Japan, England and New Zealand. Under the theme of Building on Success and Learning from Failures, the symposium was highly acclaimed by all the participants, so I was pleased to contribute to the global exchange of information.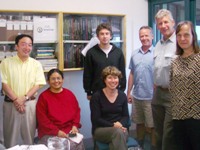 Consider life and the fate of science
during your years in master's and doctoral programs.
Our research consists of field work and data analysis: Specifically, we estimate home ranges of radio-collared raccoons by analyzing location data, and we estimate population size of raccoons based on their reproductive rate. One of the remarkable characteristics of this science is that researchers pay full attention to the minds of various people on the spot: farmers and community members who have suffered from damage, and veterinarians who are involved in preventive measures. While cultivating sensitivity to life, students formulate sound scientific theories. This is unique among disciplines in the Graduate School of Letters. Therefore, I believe that learning and experiences obtained through the years of the master's and doctor's programs will surely bring irreplaceable affluence to your life.
Message
I am pursuing my research on the management of non-native species such as racoons and other animals based on natural scientific investigations of their ecology as well as humanities/social scientific investigations including awareness and countermeasures in society. Although non-native species are significantly detrimental to biodiversity and society, it is important to not only manage such animals but also conserve native species. From these perspectives, our laboratory proactively addresses issues related to non-native species as well as those concerning the conservation of native species.
With regard to the issue of invasive species, we frequently interact with researchers in the world's most advanced countries, including New Zealand, the U.S., the U.K., France and Italy, in relation to measures against non-native species. We are promoting a system in which researchers can experience cutting-edge research and education overseas, thereby allowing us to carry out research from a wide variety of perspectives including regional and global measures.
Though the coexistence of humans with creatures is regarded as a vital challenge, living together in the same space is not the only way to coexist. The task of exploring the ideal way to coexist in connection with the ecology of wildlife and human culture and social aspects is a theme that not only inspires intellectual curiosity but also contributes to society. Let's consider the question of what kind of nature we should pass down to future generations from an on-site perspective through fieldwork. When viewed from our connection with nature, humans are truly mysterious entities. Let's enjoy this fascinating area of research together.