Profile

Research Subject

The body of the actor, narration and cinematographic technique in Japanese film. Structural analysis of manga, music (rock, J-pop), anime and photography. Studies in poetry centred on haiku and tanka. Creative writing. Media studies
Research Fields

Research in film and subculture, Japanese poetry studies

Faculty - Division / Research Group / Laboratory

Division of Humanities / Research Group of Cultural Representations / Laboratory of Visual and Modern Culture

Graduate School - Division / Department / Laboratory

Division of Humanities / Department of Cultural Representations / Laboratory of Visual and Modern Culture

School - Course / Laboratory

Division of Humanities and Human Sciences / Course of Linguistics and Literature / Laboratory of Visual and Modern Culture

Contact

Office/Lab: 502
TEL: +81-11-706-3014
FAX: +81-11-706-3014
Email: casio(at)let.hokudai.ac.jp
Replace "(at)" with "@" when sending email.

Foreign exchange students who want to be research students (including Japanese residents) should apply for the designated period in accordance with the

"Research Student Application Guidelines"

. Even if you send an email directly to the staff, there is no reply.

Related Links
Lab.letters

Penetrate structures specific to works
and affirm those structures with a feeling of awe.
It's easy to discuss subcultures and arts, including movies, music and animated cartoons, on a "love it or hate it" basis, but it's necessary to gain an in-depth understanding of these works when one intends to develop a criticism of them as works. Why did the author choose such a way of expression? It's not until you can penetrate the physical structures specific to the work – lyrics and chords for music, and the layouts of frames for cartoons – that you find a pleasure akin to the ecstasy of having succeeded in truly objectifying the work. 
Ironically enough, when we describe a voice, for instance, the question arises of how one can precisely describe that voice. The moment comes when words fall short. I believe that affirming works with a feeling of awe is conducive to enhancing the overall conditions of expressive culture in Japan.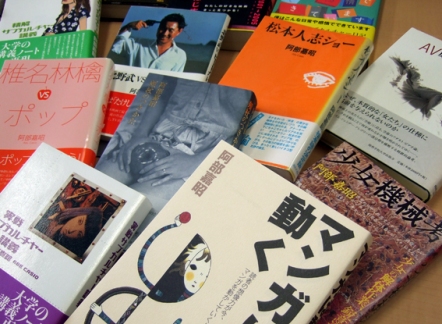 Felicity brought by things literary:
Poetic intuition helps to add originality to research.
Things literary, which are prone to be undervalued in a society that emphasizes practical learning, bring one a diversity of happy occasions, such as by contributing to smooth communication. These occasions include not only when one comments on works, but also when a commentator plays the role of a producer of works. While exchanging e-mails with the students under my supervision, I myself have resumed poetry writing. I believe that in academic research, poetic intuition also helps to enhance originality that doesn't exist in conventional eyes.
My instruction resembles a live performance that mainly consists of colloquial words, as opposed to presentations based on a preprinted draft. I cordially expect you to determine your own policies and ways of thinking from the space where my quick-firing thoughts and wide array of quoted proper nouns fly.
Message
Free downloading of books in an Internet environment and easy access to publications make their distribution channels lax, resulting in people showing no reverence for literary works and allowing only commercial products to become rampant. This current trend can be regarded as a crisis of thinking because, unlike sociology, literary imagination closes in on works to analyze them, thereby creating guidelines for thinking. In particular, today's researchers are required to find value in representation environments such as movies and the subcultures surrounding them from the perspective of advocating literary works. It is therefore necessary to analyze the structures that make literary works attractive. With works such as movies, music pieces and cartoon comics falling into oblivion relatively soon after publication, I would like to create opportunities for making a list of works to be examined based on a crosscutting approach in genres and media as well as to critically convey their unique truths and common subjects. What should be evoked then is poeticality and the poetical spirit that plays a central role in connecting distant subjects and making them original by separating them from common beliefs. This laboratory is aimed at creating a free environment enabling the analysis of subcultures to unite with the expression of poeticality. Aspiring students who recognize themselves as being unusually interested in something are more than welcomed.